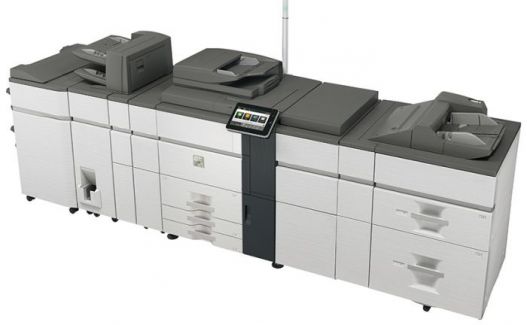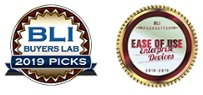 BLI 2019 Pick Award 
A4/A3 75ppm Colour Laser Multifunction Printer
The MX 7580N 75ppm colour multifunction is built for fast, high-volume printing in large-scale settings.

Whether at a large company, government office, university, or research centre, it produces beautiful colour documents with ease.

The device can be configured with an array of capabilities including: booklet making, trimming and punching. It can also be set up with a fiery server for highly accurate colour matching.
Learn more about our Managed Print Services , photocopier lease or photocopier rental options or enquire below.
10.1-Inch Colour Touch-Screen
A user-friendly touchscreen interface incorporating an Easy UI mode makes it easy for anyone to use the MX-6580N/7580N's advanced functions.
Direct Printing/Scanning with USB Drives
After inserting a USB drive into the MX-6580N/7580N, you can print files which are displayed as thumbnails, or you can scan documents directly to the USB drive.
Fiery® Print Server
Paired with the MX-PE12, an industry-leading EFI™ Fiery embedded print server, the Sharp MX-7580N/6580N becomes a powerful integrated solution for managing professional in-plant and busy on-demand printing environments.
Wireless Connection
The MX-7580N/6580N offers ultra-handy wireless access via two easy modes, enabling convenient access to the MFD even from places where a wired LAN is not available.
Sharp Print Release
The Print Release function lets you send documents to the main MFD, which acts as a server and stores them for printing out from any other compatible MFD on the network. This function comes in handy when the main MFD is in use or under maintenance, letting you finish your job with minimal waiting.
Sharp OSA® 5.0
Innovative Sharp OSA technology allows you to interact with critical business and network applications right from the LCD control panel, offering a new realm of control and convenience. And since Sharp OSA utilises industry-standard network protocols, the MX-7580N/6580N can easily integrate with document management systems, enterprise resource planning software, workflow applications, and more.
General
User Interface
Colour 10.1" LCD Touch-Screen
Product Environment
Medium Office/Workgroup Departmental
Original Paper Size
Max A3
Printed Paper Size
Tray: A3W - A5R, Bypass: 13 x 19.2 - A5R
Standard Paper Capacity
3,100 (1,200-sheet + 800-sheet + 2x500-sheet + 100-sheet multi bypass)
Maximum Paper Capacity
8,500 (5,000-sheet + 1,200-sheet + 800-sheet + 2x500-sheet + 500-sheet)
Paper Weight
Tray 1 & 2: 60-105 g/m2, Tray 3 & 4: 60-220g/m2, Bypass: 55-300g/m2 (except MXMF11 LCT Bypass Tray)
Output Capacity
Optional MXTU14 250-sheet centre tray or Finisher is required, additional MXTR14 100-sheet right tray
Resolution
9,600 (equivalent) x 600 dpi (Colour Copy), 1200x1200 dpi (B/W Copy), 1200 x 1200 dpi ( Printer )
Duplex
Std. (60 - 300 g/m2)
Dimension
845 x 844 x 1,221 mm
Photocopying
Copy Speed
65/75ppm (A4) 33/36ppm (A3)
First Copy Time (OC)
Colour: 5.6/5.1 sec; B/W: 4.0/3.7 sec
Continuous Copy
Max 9,999
Zoom Range
25 - 400% (DSPF 25 - 200%) in 1% increments
Environmental
Power Supply / Consumption
Max. 3.84 kW
TEC Value (Measures)
65ppm: 7.0 kWh; 75ppm: 7.8 kWh
Noise
65ppm: Standby 34.0dB, Operating 60.0db; 75ppm: Standby 34.0dB, Operating 60.3db Measurement with MX-RB15, MX-RB12 & MX-FN21
Document Feeder
Document Feeder
Std: DSPF
Original Capacity
Max 150 sheets (80 g/m2)
First Copy Time
Colour: 9.2 sec, B/W: 6.5 sec
Filing
Quick / Main Folders
Quick Folder: Max 10,000 pages, Main/Custom Folder: Max 35,000 pages or 5,000 files
Preview Thumbnails
Supported (includes Advanced Edit Mode)
Printing
Print Speed (Max)
65/75ppm (A4) 33/36ppm (A3)
PDL (Emulation)
STD: PCL6 emulation, Adobe® PostScript® 3™
User Interface
USB 2.0, 10Base-T/100Base-TX/1000Base-T
Protocol
TCP/IP (IPv4, IPv6),
Supported OS
Windows® Vista*, Windows® 7*, Windows® 8*, Windows® 8.1*, Windows® 10*, Windows® Server 2008* / 2008R2 / 2012 / 2012R2 / 2016 (*32/64bit). Mac OS X10.4.x, 10.5.x, 10.6.x, 10.7.x, 10.8.x, 10.9.x, 10.10.x, 10.11.x, 10.12.x, 10.13.x
Utility Software
Status Monitor
Sharpdesk Mobile
Supported
Airprint Support
Supported
Pantone Support
Supported
Network Scanner
Resolution
Push scan: 100, 150, 200, 300, 400, 600 dpi Pull scan: 75, 100, 150, 200, 300, 400, 600 dpi 50 to 9,600 dpi via user setting
Scan Resolution
Colour: 600 x 600 dpi; B/W: 600 x 400 dpi, 600 x 600 dpi
Scan Speed
Copy Mode: B/W 80 opm / Colour 53 opm (1-sided), B/W 160 opm / Colour 106 opm (2-sided); Scan Mode: B/W & Colour 100 opm (1-sided), B/W & Colour 200 opm (2-sided).
Format
Mono: TIFF, XPS, PDF, PDF/A, Encrypted PDF, Searchable PDF, Office Format (docx, xlsx, pptx), TXT, RTF & UTF-8. Colour: TIFF, JPEG, XPS, PDF, PDF/A, Encrypted PDF, Searchable PDF, Compact PDF, Office Format (docx, xlsx, pptx), TXT, RTF & UTF-8.
Destination
Desktop (Sharpdesk), FTP, E-Mail, SMB Folder, USB, HDD, TWAIN / WIA compliant, I-Fax (SMTP)
User Registration
Max 2,000, 500 (group)
Utility Software
Network Scan Tool, Sharpdesk v3.5 (1 license)
Facsimile
Communication Protocol
Super G3
Transmission Speed
2 sec.range (Super G3/JBIG), 6 sec.range (G3/ECM)
Compression
MH,MR,MMR,JBIG
Inboud Routing
Yes (TIFF, XPS & PDF Format)
PC Fax
Yes (For Windows only)