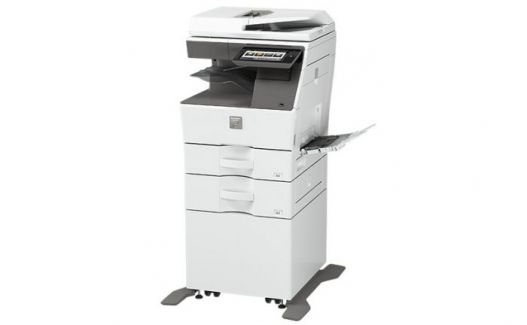 Proudly celebrating 25-years in business
A4 35ppm B&W Multifunction Laser Printer
a better way to print.
better service.  better quality.   better value.
Please fill in your details below
The MX B350W multifunction desktop printer delivers an output speed up to 35ppm and is designed to produce consistent high quality output page after page.
Offering a compact footprint and low cost per page, the MX B350W is suitable for virtually any size office environment and is also a great choice for cost-conscious businesses.
Learn more about our Managed Print Services , photocopier lease or photocopier rental options or enquire below.
General
User Interface
5 Line LCD Display
Product Environment
Small Office/Workgroup Medium Office/Workgroup
Original Paper Size
Max A4
Printed Paper Size
Tray1: A4-A6, Tray2-4: A4-A5, Bypass: A4-A6
Standard Paper Capacity
550 (500-sheets x 1 + 50-sheet multi bypass)
Maximum Paper Capacity
1,150 sheets (500-sheets x 1 + 50-sheet Multi bypass + 600-sheets x 1)
Paper Weight
Tray 1: 60-105gsm, Tray 2: 55-220gsm, Bypass Tray: 55-220gsm
Output Capacity
250-sheets centre tray
Warm up time
29 sec or less (Power Button)
Resolution
600 x 600 dpi (Copy/Printer)
Memory
1 GB (Copy/Print shared)
Duplex
Std. (60 - 105 g/m2)
Dimension
492 x 517 x 560 mm
Photocopying
First Copy Time (OC)
9.0 sec
Zoom Range
25 - 400% (RSPF 25 - 200%) in 1% increments
Environmental
Power Supply / Consumption
Max. 1.84 kW
TEC Value (Measures)
1.9 kWh
Noise
Operating: 53db, Standby: 10db
Document Feeder
Document Feeder
Std: RSPF
Original Capacity
Max 50 sheets
Filing
Quick / Main Folders
Not Supported
Preview Thumbnails
Not Supported
Printing
Print Speed (Max)
35 ppm (A4)
PDL (Emulation)
STD: PCL6, PostScript®3
User Interface
USB2.0, 10Base-T / 100Base-TX / 1000BaseT
Protocol
TCP/IP (IPv4, IPv6)
Supported OS
Windows® 7*, Windows® 8.1*, Windows® 10*, Windows® Server 2008* / 2008R2 / 2012 / 2012R2 / 2016 (*32/64bit). Mac OS 10.6.x, 10.7.x, 10.8.x, 10.9.x, 10.10.x, 10.11.x, 10.12.x, 10.13.x
Utility Software
Status Monitor
Sharpdesk Mobile
Supported
Network Scanner
Resolution
100, 150, 200, 300, 400, 600 dpi
Scan Resolution
600 x 600 dpi, 600 x 300 dpi
Scan Speed
Copy Mode: 40 opm (1-sided), 18 opm (2-sided); Image Send Mode (1-sided): 40 opm (B/W), 13 opm (Colour)
Format
Mono: TIFF & PDF, Colour/Greyscale: TIFF, JPEG & PDF
Destination
Desktop (Sharpdesk), FTP, E-Mail, SMB Folder, USB, TWAIN / WIA compliant
User Registration
Max 200
Utility Software
Network Scan Tool, Sharpdesk (1 license)
Facsimile
Communication Protocol
Super G3
Transmission Speed
2 sec.range (Super G3/JBIG), 6 sec.range (G3/ECM)
Compression
MH,MR,MMR,JBIG
Inboud Routing
Yes (PDF Format)
PC Fax
Yes (For Windows only)
General
User Interface
5 Line LCD Display
Product Environment
Small Office/Workgroup Medium Office/Workgroup
Original Paper Size
Max A4
Printed Paper Size
Tray1: A4-A6, Tray2-4: A4-A5, Bypass: A4-A6
Standard Paper Capacity
550 (500-sheets x 1 + 50-sheet multi bypass)
Maximum Paper Capacity
1,150 sheets (500-sheets x 1 + 50-sheet Multi bypass + 600-sheets x 1)
Paper Weight
Tray 1: 60-105gsm, Tray 2: 55-220gsm, Bypass Tray: 55-220gsm
Output Capacity
250-sheets centre tray
Warm up time
29 sec or less (Power Button)
Resolution
600 x 600 dpi (Copy/Printer)
Memory
1 GB (Copy/Print shared)
Duplex
Std. (60 - 105 g/m2)
Dimension
492 x 517 x 560 mm
Photocopying
First Copy Time (OC)
9.0 sec
Zoom Range
25 - 400% (RSPF 25 - 200%) in 1% increments
Environmental
Power Supply / Consumption
Max. 1.84 kW
TEC Value (Measures)
1.9 kWh
Noise
Operating: 53db, Standby: 10db
Document Feeder
Document Feeder
Std: RSPF
Original Capacity
Max 50 sheets
Filing
Quick / Main Folders
Not Supported
Preview Thumbnails
Not Supported
Printing
Print Speed (Max)
35 ppm (A4)
PDL (Emulation)
STD: PCL6, PostScript®3
User Interface
USB2.0, 10Base-T / 100Base-TX / 1000BaseT
Protocol
TCP/IP (IPv4, IPv6)
Supported OS
Windows® 7*, Windows® 8.1*, Windows® 10*, Windows® Server 2008* / 2008R2 / 2012 / 2012R2 / 2016 (*32/64bit). Mac OS 10.6.x, 10.7.x, 10.8.x, 10.9.x, 10.10.x, 10.11.x, 10.12.x, 10.13.x
Utility Software
Status Monitor
Sharpdesk Mobile
Supported
Network Scanner
Resolution
100, 150, 200, 300, 400, 600 dpi
Scan Resolution
600 x 600 dpi, 600 x 300 dpi
Scan Speed
Copy Mode: 40 opm (1-sided), 18 opm (2-sided); Image Send Mode (1-sided): 40 opm (B/W), 13 opm (Colour)
Format
Mono: TIFF & PDF, Colour/Greyscale: TIFF, JPEG & PDF
Destination
Desktop (Sharpdesk), FTP, E-Mail, SMB Folder, USB, TWAIN / WIA compliant
User Registration
Max 200
Utility Software
Network Scan Tool, Sharpdesk (1 license)
Facsimile
Communication Protocol
Super G3
Transmission Speed
2 sec.range (Super G3/JBIG), 6 sec.range (G3/ECM)
Compression
MH,MR,MMR,JBIG
Inboud Routing
Yes (PDF Format)
PC Fax
Yes (For Windows only)