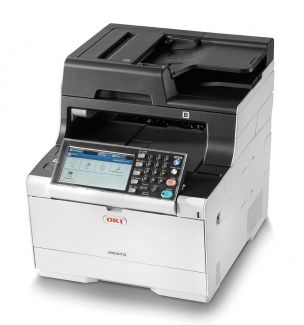 Proudly celebrating 25-years in business
OKI Executive Series ES5473dn MFP
A4 30ppm Colour Multi-Function Printer
a better way to print.
better service.  better quality.   better value.
Please fill in your details below
The OKI Executive Series ES5473dn is a great colour multifunction device suitable for single use small business or multiple departments or offices which need close proximity print access and security.
Ultra-fast and with a powerful new engine, the ES5473dn brings new standards of print quality and document security to small businesses and workgroups.
Incorporating a customisable 7inch colour LCD touch screen, automatic duplexing and capable of an additional two 530 sheet paper drawers (optional).
Learn more about our Managed Print Services, leasing or rental options or enquire below.
Impressive 30ppm print engine that gives true 1200 x 1200dpi print resolution
Maximum 1,410 sheet paper capacity with two optional trays
1GB RAM memory for easy handling of graphics-intensive documents
Operates from a customisable 7" colour LCD touch screen
Optional Wireless LAN Module available
General
Print Type
A4 30ppm Colour Multi-Function Printer
Original Paper Size
Max A4
Printed Paper Size
Tray 1: A4, A5, B5, A6, B6; Tray 2/3: A4, A5, B5; MPT: A4, A5, B5, A6, B6, B6 Half, Envelopes (C5, DL, Com-9, Com-10, Monarch), Index Card (3"x5") (75x125mm), Photo Size (4"x 6", 5"x 7") (100x150mm, 125x175mm), Custom Size (up to 1320mm length)
Standard Paper Capacity
up to 2 x 530-sheet 2nd/3rd trays
Paper Weight
Tray 1/2/3: 64-176gsm MPT: 64-220gsm Duplex: 64-176gsm RADF: 60 to 105gsm
Output Capacity
Face Down: 150 sheets of 80gsm; Face Up: 100 sheets of 80gsm
Warm up time
7.5 seconds colour/mono
Resolution
1200 x 1200dpi
Memory
256MB (approx. 8,000 pages)
Duplex
auto duplex standard
Dimension
472 x 427 x 576mm
Photocopying
Copy Speed
up to 30cpm colour/mono
First Copy Time (OC)
Less than 12 seconds colour/mono
Document Feeder
Document Feeder
50-sheet RADF, flatbed scanner
Network Scanner
Resolution
600 x 600 dpi; Input 30-bit / Output 24-bit
Scan Resolution
Up to 600 x 600 dpi
Scan Speed
up to 30ppm colour, up to 30ppm mono
Format
S/M-PDF, S/M-Secure PDF, S/M-TIFF (RAW/G3/G4 Compressed), JPEG (colour, grey scale only), XPS, S/M-Hi compression PDF, PDF/A
Destination
CIFS, FTP, HTTP, USB memory, E-mail, Local PC, Remote Scan
User Registration
LDAP, 1000 E-mail address, 32 group addresses
Facsimile
Transmission Speed
ITU-T G3(Super G3) up to 33.6kbps, 2 seconds/page
Impressive 30ppm print engine that gives true 1200 x 1200dpi print resolution
Maximum 1,410 sheet paper capacity with two optional trays
1GB RAM memory for easy handling of graphics-intensive documents
Operates from a customisable 7" colour LCD touch screen
Optional Wireless LAN Module available
General
Print Type
A4 30ppm Colour Multi-Function Printer
Original Paper Size
Max A4
Printed Paper Size
Tray 1: A4, A5, B5, A6, B6; Tray 2/3: A4, A5, B5; MPT: A4, A5, B5, A6, B6, B6 Half, Envelopes (C5, DL, Com-9, Com-10, Monarch), Index Card (3"x5") (75x125mm), Photo Size (4"x 6", 5"x 7") (100x150mm, 125x175mm), Custom Size (up to 1320mm length)
Standard Paper Capacity
up to 2 x 530-sheet 2nd/3rd trays
Paper Weight
Tray 1/2/3: 64-176gsm MPT: 64-220gsm Duplex: 64-176gsm RADF: 60 to 105gsm
Output Capacity
Face Down: 150 sheets of 80gsm; Face Up: 100 sheets of 80gsm
Warm up time
7.5 seconds colour/mono
Resolution
1200 x 1200dpi
Memory
256MB (approx. 8,000 pages)
Duplex
auto duplex standard
Dimension
472 x 427 x 576mm
Photocopying
Copy Speed
up to 30cpm colour/mono
First Copy Time (OC)
Less than 12 seconds colour/mono
Document Feeder
Document Feeder
50-sheet RADF, flatbed scanner
Network Scanner
Resolution
600 x 600 dpi; Input 30-bit / Output 24-bit
Scan Resolution
Up to 600 x 600 dpi
Scan Speed
up to 30ppm colour, up to 30ppm mono
Format
S/M-PDF, S/M-Secure PDF, S/M-TIFF (RAW/G3/G4 Compressed), JPEG (colour, grey scale only), XPS, S/M-Hi compression PDF, PDF/A
Destination
CIFS, FTP, HTTP, USB memory, E-mail, Local PC, Remote Scan
User Registration
LDAP, 1000 E-mail address, 32 group addresses
Facsimile
Transmission Speed
ITU-T G3(Super G3) up to 33.6kbps, 2 seconds/page