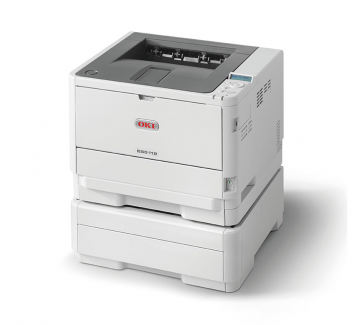 Proudly celebrating 25-years in business
OKI Executive Series ES5112dn
A4 45ppm B&W Laser Printer
a better way to print.
better service.  better quality.   better value.
Please fill in your details below
The OKI Executive Series ES5112dn is a great B&W desktop device suitable for single use small business or multiple departments or offices which need close proximity print access and security.
Fast high quality black and white printing for the cost conscious user. These high performance printers deliver documents fast and incorporate many time and money saving features including high capacity toners to keep running costs low.
Coming standard with a 530 sheet tray and 100 sheet multipurpose tray, an opptional second 530 sheet tray is available.
Learn more about our Managed Print Services, leasing or rental options or enquire below.
Time to first print 4.5 seconds
A4 print speeds of up to 45ppm
530 sheet paper tray and 530 sheet 2nd tray option
1200 x 1200dpi print resolution ensures pinsharp output every time
Compact, low profile design for ease of use
Duplex printing as standard, reducing paper usage by printing on both sides
General
Print Type
A4 45ppm B&W Printer
Original Paper Size
ES4132: Tray 1: A4, A5, B5(JIS), A6, Letter, Legal 13, Legal 14, Executive, Statement; Tray 2: A4, A5, B5(JIS), Letter, Legal 13, Legal 14, Executive; Multi-purpose tray: A4, A5, B5(JIS), A6, Letter, Legal 13, Legal 14, Executive, Statement, Envelopes: M
Standard Paper Capacity
530 sheet tray + 100 sheet MPT
Maximum Paper Capacity
530 sheet 2nd paper tray
Paper Weight
Tray 1: A4, A5, B5(JIS), Letter, Legal 13, Legal 14, Executive, Statement; Tray 2: A4, A5, B5(JIS), Letter, Legal 13, Legal 14, Executive; Multi-purpose tray: A4, A5, B5(JIS), A6, Letter, Legal 13, Legal 14, Executive, Statement, Envelopes: Monarch, Com-9
Warm up time
5 sec from Deep Sleep, 17 sec from power on
Resolution
1200 x 1200dpi
Memory
512MB RAM; 3GB eMMC
Duplex
auto duplex standard
Dimension
286 x 387 x 394mm, with 2nd tray 424 x 387 x 394mm
Document Feeder
Original Capacity
12,000 pages
Printing
Print Speed (Max)
ES5112: 45ppm
PDL (Emulation)
PostScript3(Emulation), PCL5e, PCL6(XL), EPSON FX, IBM ProPrinter, XPS, PDF(v1.7)
User Interface
Hi-Speed USB 2.0, 10/100/1000 Ethernet
Supported OS
Windows 7 (32 & 64-bit), Windows 8 (32 & 64-bit), Windows 8.1 (32 & 64-bit), Windows Server 2003 (32 & 64-bit), Windows Vista (32 & 64-bit), Windows Server 2008 (32 & 64-bit), Windows Server 2008 R2 (64-bit), Windows Server 2012 (64-bit), Windows Server 2
Time to first print 4.5 seconds
A4 print speeds of up to 45ppm
530 sheet paper tray and 530 sheet 2nd tray option
1200 x 1200dpi print resolution ensures pinsharp output every time
Compact, low profile design for ease of use
Duplex printing as standard, reducing paper usage by printing on both sides
General
Print Type
A4 45ppm B&W Printer
Original Paper Size
ES4132: Tray 1: A4, A5, B5(JIS), A6, Letter, Legal 13, Legal 14, Executive, Statement; Tray 2: A4, A5, B5(JIS), Letter, Legal 13, Legal 14, Executive; Multi-purpose tray: A4, A5, B5(JIS), A6, Letter, Legal 13, Legal 14, Executive, Statement, Envelopes: M
Standard Paper Capacity
530 sheet tray + 100 sheet MPT
Maximum Paper Capacity
530 sheet 2nd paper tray
Paper Weight
Tray 1: A4, A5, B5(JIS), Letter, Legal 13, Legal 14, Executive, Statement; Tray 2: A4, A5, B5(JIS), Letter, Legal 13, Legal 14, Executive; Multi-purpose tray: A4, A5, B5(JIS), A6, Letter, Legal 13, Legal 14, Executive, Statement, Envelopes: Monarch, Com-9
Warm up time
5 sec from Deep Sleep, 17 sec from power on
Resolution
1200 x 1200dpi
Memory
512MB RAM; 3GB eMMC
Duplex
auto duplex standard
Dimension
286 x 387 x 394mm, with 2nd tray 424 x 387 x 394mm
Document Feeder
Original Capacity
12,000 pages
Printing
Print Speed (Max)
ES5112: 45ppm
PDL (Emulation)
PostScript3(Emulation), PCL5e, PCL6(XL), EPSON FX, IBM ProPrinter, XPS, PDF(v1.7)
User Interface
Hi-Speed USB 2.0, 10/100/1000 Ethernet
Supported OS
Windows 7 (32 & 64-bit), Windows 8 (32 & 64-bit), Windows 8.1 (32 & 64-bit), Windows Server 2003 (32 & 64-bit), Windows Vista (32 & 64-bit), Windows Server 2008 (32 & 64-bit), Windows Server 2008 R2 (64-bit), Windows Server 2012 (64-bit), Windows Server 2