Benefits of Print Solutions
Cost reductionsWe offer a full analysis and comparison of costs, often showing businesses reductions of 10 to 40%
Transparent costsAgreed upon cost per page covers equipment, toner, service and fleet management
Payout of existing commitmentsOur prices include finalising your existing print finance agreements
Equipment and usage flexibilityYou have the ability to adjust your monthly volumes and add equipment if your business needs change in the future
Equipment to suit every needWe offer multiple award-winning brands and a range of equipment, ensuring the most suitable device
Preventative & corrective servicingYour machines are serviced on a volume schedule in order to prevent breakdowns or emergency servicing
Our Process
Our role is to help businesses reduce their print-related costs, increase productivity, and improve user experience.
We offer a variety of print solutions, preventative equipment maintenance, software solutions, and flexible finance options — all of which are tailored specifically to your business.
At Axia, we pride ourselves on building mutually beneficial relationships with clients through honesty, respect and loyalty. As an independent dealer, we're in a unique position to offer you unbiased advice. We are an authorised dealer of a variety of multifunction photocopier and printer brands, including Canon, Sharp, Epson & OKI — which, along with our in-depth analysis of your business, allows us to provide the best solution, every time.
In 2019, we launched our Make a Difference Program, which gives a portion of our profits to our charity partners, Foodbank NSW & ACT and Rural Aid Australia. Now, for every deal we sign with a new or existing client, Axia funds a minimum of 2,000 meals to food insecure Australians through Foodbank, or 9,200 litres of water to help support Australia's farmers and rural communities through Rural Aid — the choice is yours.
Interested in reducing your print-related costs while also making a difference to our community? Contact us today for a FREE review.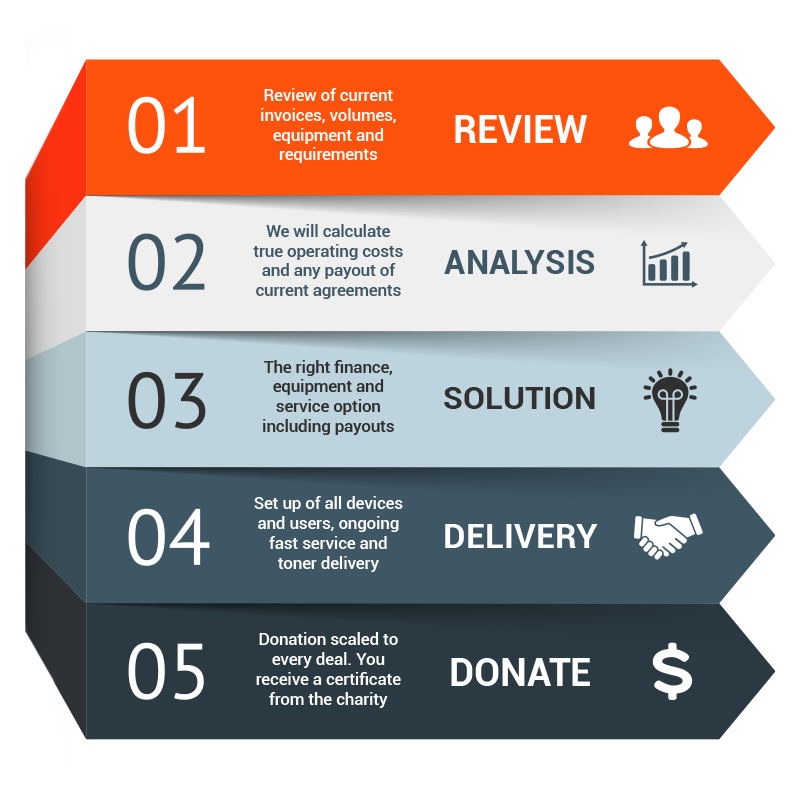 WHAT YOU CAN EXPECT
1. AUDIT: An account manager will review your current invoices, volumes, equipment and business requirements.
2. ANALYSIS: We'll calculate the true operating cost of printing to your business, what finance options would work best, and any current-agreement payouts that we need to include.
3. SOLUTION: You'll be presented with a customised and complete proposal, including finance options, equipment and service — all compared to your current operational costs.
4. IMPLEMENTATION: We'll set up all devices and users, and you'll then receive fast, on-going support, reliable toner delivery, and scheduled preventative maintenance.
5. DONATION: Each donation Axia makes is tailored to give as much as possible, with a minimum of 2,000 meals or 9,200L of water being funded from each deal signed.
6. REVIEW: Your account manager will review your account and continue to work with you to reduce costs and identify more ways to add value to your business.
Preventative Maintenance
In Axia's 20+ years of experience maintaining and servicing machines, we have seen that a preventative maintenance approach is far more efficient in reducing both costs and equipment downtime. We want to ensure minimal interruptions and a consistently high standard of quality when it comes to your machines, so as an Axia client, your machines are serviced on a volume schedule in order to prevent breakdowns or emergency servicing.
WHY IS THIS IMPORTANT
Similar to how you would service your car, if you take your car in to get its brakes fixed, the mechanic is only going to fix your brakes, and you may be back a month later to fix something else; however, if you take your car in for its 100,000 km service, the mechanic is going to look over everything and preventatively maintain your vehicle to prevent your car needing another or more major service sooner.

At each maintenance interval, our service technicians complete all checks and replace all parts in accordance with the manufacturers' service manual, thereby addressing problems before they occur. And, unlike your car service, the cost is included in your contract.
It also allows us to prioritise you if you have a breakdown. Clients A, B, and C may have preventative services booked; however, as those are not urgent, if you have a breakdown, you are prioritised and will receive
COMPLETE SERVICES IN LESS THAN FOUR HOURS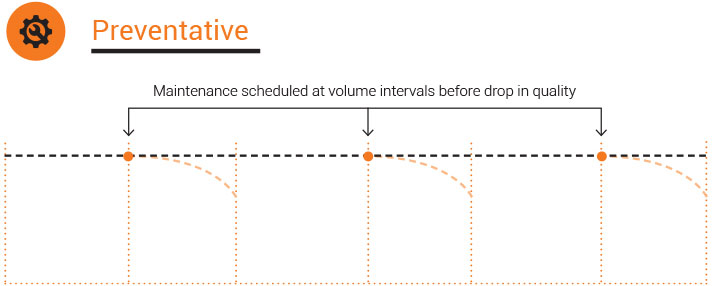 Managed Print Plan
The only plan that offers true transparency on your actual print costs, a Managed Print Plan will reduce the term of the agreement and allow for flexibility in changing it.
• Term-reducing agreement: if pages are printed over the minimum, they accelerate you towards the total volumes of the agreement, thus concluding the term early
• Transparency: cost per page allows for easy calculation of true cost of print and ROI from prints (e.g. marketing material)
• Highly flexible: minimum volumes can be adjusted at any point if they are consistently being exceeded or not achieved
• Easy additions: more devices can be added any time if the business needs change
Rentals
The traditional agreement, with a fixed monthly charge on a fixed term, and service billed for pages used.
• Pay for specific volume: no minimum volumes, pages billed are exactly what is used
• Seperated costs: Rental cost includes hardware, cost per page includes consumables and service


Block Plan
This plan enables you to have a fixed-term agreement that encompasses most of your monthly prints.
• Reduced cost on block: Average volume captured in a monthly volume block at a reduced rate
• No seperate rental: monthly block cost includes, rental, volume, consumables and service
Unlimited Print Plan
Axia is the first company in the industry to offer a plan that will give you unlimited prints at an agreed-upon monthly fee. With an Unlimited Print Plan, there will be no surprises on your monthly bill.
• No cost per page:B&W and colour pages are unlimited
• No minimum monthly volume: no set volume print as much as you need
• Consistent invoices: set cost per month makes it very easy to keep track
Free Black Pages
Another new and unique program in the industry where you do not pay for black & white pages.
• Unlimited B&W: only pay for colour printing
No Fixed-Term Rentals
This is an Axia-sponsored program that allows you to avoid entering into a long fixed-term agreement (minimum period for this program is 3 months).
• Ongoing month to month: No lock in contract pay for each ongoing month you have the equipment
Outright Purchase
Take advantage of the Federal Government's instant asset write-off program for eligible businesses. Details related to the 100% write-off threshold and business eligibility can be found on the ATO website.
• Owned hardware: own the equipment and only pay for servicing
• Cheaper ongoing cost: As capital investment is upfront the ongoing costs are less
---