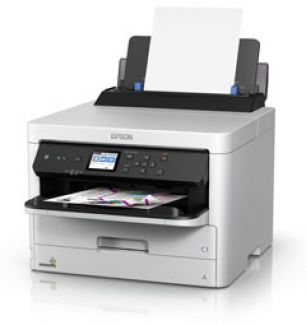 Proudly celebrating 25-years in business
Epson WorkForce Pro WF-C5290
A4 24ppm Colour Inkjet Printer
a better way to print.
better service.  better quality.   better value.
Please fill in your details below
The Epson WorkForce Pro WF-C5290 features the next generation of the heat-free PrecisionCore inkjet printing technology. This results in supeior print quality over laser devices with zero second warmup times.
This compact device features an innovative Replaceable Ink Pack System (RIPS) to minimise end-customer interventions.
The Precision Core Inkjet technology also means the device consumes 85% less power than the average laser printer. In most case a laser printer sitting in ready mode uses more power than the Epson devices when printing.
Learn more about our Managed Print Services , photocopier lease or photocopier rental options or enquire below.
Powered by heat-free PrecisionCore™

 – the next-generation of inkjet printing technology, Epson's innovative Replaceable Ink Pack System

Easy on your budget

– up to 62% percent lower colour cost per page compared with laser

Productive workspace

 – compact footprint for a streamlined, efficient workstation

Blazing fast print speeds

– 0 second warmup time — 24 ppm (black/colour) ISO; plus fast first page out

Minimise your interventions

– Epson's Replaceable Ink Pack System lets you print up to 10,000 mono and 5,000 colour pages without changing the ink; up to 830 sheets paper capacity with the optional second paper tray

Enabled for remote printer data collection

 – compatible with MPS software solutions from PrintFleet®, ECi (FMAudit®) and others

Reduce your impact

 – benefit from energy-efficient consumption

Professional-quality results to make your business look its best

 – ultra-sharp text and brilliant colours on a wide variety of media
General
Product Environment
Small Office/Workgroup Medium Office/Workgroup
Original Paper Size
Max A4
Powered by heat-free PrecisionCore™

 – the next-generation of inkjet printing technology, Epson's innovative Replaceable Ink Pack System

Easy on your budget

– up to 62% percent lower colour cost per page compared with laser

Productive workspace

 – compact footprint for a streamlined, efficient workstation

Blazing fast print speeds

– 0 second warmup time — 24 ppm (black/colour) ISO; plus fast first page out

Minimise your interventions

– Epson's Replaceable Ink Pack System lets you print up to 10,000 mono and 5,000 colour pages without changing the ink; up to 830 sheets paper capacity with the optional second paper tray

Enabled for remote printer data collection

 – compatible with MPS software solutions from PrintFleet®, ECi (FMAudit®) and others

Reduce your impact

 – benefit from energy-efficient consumption

Professional-quality results to make your business look its best

 – ultra-sharp text and brilliant colours on a wide variety of media
General
Product Environment
Small Office/Workgroup Medium Office/Workgroup
Original Paper Size
Max A4