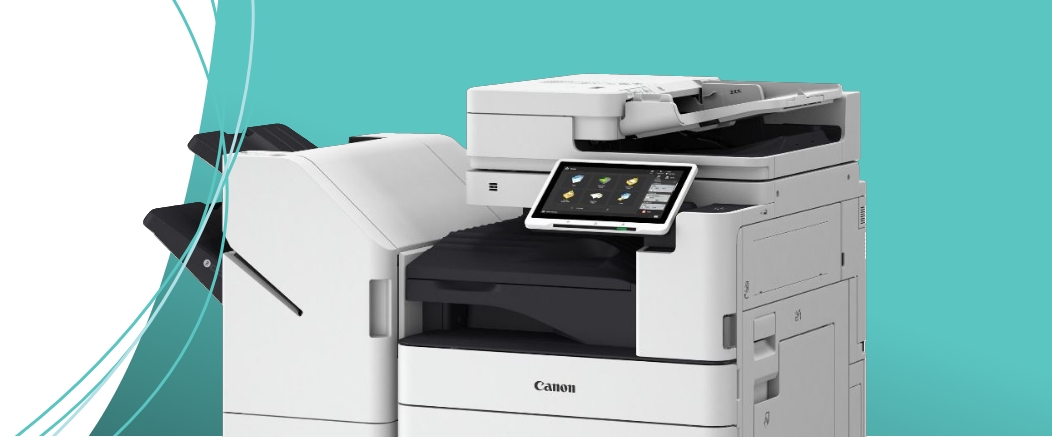 Canon recently won the BLI 2022 A3 Line of the Year Award from Keypoint Intelligence, the world's leading independent evaluator of document imaging hardware, software and services, following 4 consecutive years as a winner. "When it comes to reliability and usability, Canon's copier MFP line is the standard bearer in the industry." — George Mikolay, Keypoint Intelligence's Associate Director of Copier MFP/Production Analysis

Keypoint Intelligence
"We tacked on more than two million impressions on Canon's copier engines this year and experienced just three misfeeds, which is simply outstanding and unmatched by any other vendor. Easy maintenance procedures and proactive device management help to further ensure that the products remain up and running. Plus, the models are so easy to use, with universal capabilities and features across the entire line. The photocopiers well-designed touchscreen can be customized in many ways, all to suit individual users' preferences. It's also simple for users to pair their mobile devices with the MFP for printing and scanning."
Canon Photocopiers Sydney
Axia Office is one of the major dealerships of Canon photocopiers and printers in Sydney. We consistently meet with Canon's team for in-depth training on their hardware and software. Pricebooks are updated regularly and we're notified immediately of any changes. New models and lines are shown to the Axia team before being released to the Sydney market, so you can rest assured that you will always get the most up-to-date technology at great value pricing.

Canon Copier and Printer Leasing
Canon photocopier leases and rentals are the preferred option for most businesses when sourcing new multifunction print equipment. Lease and rental finance options require no capital outlay, allowing the business to retain cash to invest elsewhere.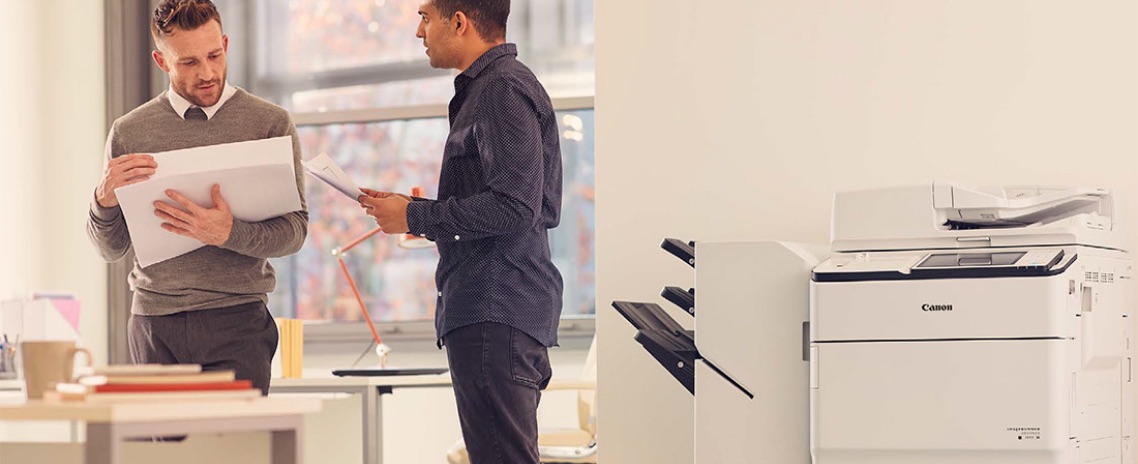 For example, if a new colour photocopier costs $10,000, it's more effective for a business to pay for this over time, at let's say $250/month, making the $10,000 available to invest in marketing, sales or improving on areas which will lead to growing the company's profits.
Financing photocopiers is also more beneficial than purchasing due to the rapid advancement of technology. While a photocopier may be leased for up to 5 years, new technology may be out in 3 years, in which case early upgrades are often available at no additional cost. Businesses that purchase equipment tend to hold on to them for too long and miss out on technological advancements that can be making their business more efficient and more profitable.
Any SMB, as well as larger companies, benefits from this financing process. The more a business needs in terms of printer or photocopier requirements (number of machines, speeds, functionality, etc.), the more the capital outlay would be — and for most businesses, there's more benefit in reinvesting that cost into the business by leasing or renting a photocopier over a period of time instead of purchasing it outright.
Axia Office offers a number of finance options which you can read more about here.
Canon Managed Print Service
Axia Office provides small and medium sized businesses in the Sydney metro area with Canon managed print services that are tailored to meet their specific needs, including:
A dedicated account manager that will review the placement of printers and staff behaviour to identify the strengths and weaknesses of your current fleet, as well as take the time to understand your future plans and requirements
A calculation of the true operating cost of printing to your business, what finance options would work best, and any payouts that we need to include
Upgrades to the most recent, award-winning Canon multifunction copiers and printers
The best photocopier finance option suited to your situation
Remote monitoring and delivery of inks and toners prior to needing them
Ongoing and fast preventative servicing and breakdown maintenance
Managed Print Services Process
ReviewOf current equipment, usage and costs by one of our experienced Account Managers
ImplementationOnce the plan has been agreed upon, we will set up all devices, train users, and you'll receive fast, ongoing support, reliable toner delivery, and scheduled preventative maintenance throughout the duration of the agreement
MonitoringOur constant monitoring ensures we quickly recognise when your needs change. We are responsive to opportunities to achieve further cost savings and efficiencies
AnalysisBy the Account Manager to calculate the operating cost of your current print platform
DonationOur clients enable us to support the local community. Each donation Axia makes is tailored to give as much as possible, with a minimum of 2,000 meals or 9,200L of water being funded from each deal signed with our partner charities Foodbank NSW and Rural Aid Australia
better service. better quality. better value.
Compare Quotes & Save
Please select the option that suits you best.
You will receive a competitive quote from us within 2 business hours.
Benefits
Improved cost efficienciesAn agreed cost per mono and colour page across all print devices that:
delivers cost savings ranging from 10 to 40%
assists budgeting and allocation of costs to the appropriate business unit
eliminates the need to deal with multiple vendors; a single point of contact improves communication and accountability
removes the responsibility of managing your print platform, leaving you free to concentrate on your business
Equipment to suit your exact needsOur choice of brands, including Canon, Sharp, Epson and OKI, ensures you get new multifunction photocopier and desktop laser printer in the right places, increasing productivity and user satisfaction
Unlimited Print Plan
Equipment to suit your exact needsAxia Office is proud to have released an industry first unlimited print plan, which eliminates monthly volumes and costs per page for one simple monthly figure including unlimited black-and-white and colour usage
Managed Print PlanThe only plan that offers true transparency on your actual print costs, a Managed Print Plan delivers an agreed cost per mono and colour page across all print devices and offers the flexibility to add new print devices or vary volumes . If print usage is higher than expected, the term is reduced offering the opportunity for an earlier upgrade
Copier Rental/LeaseThe traditional photocopier rental/photocopier lease agreement includes a fixed monthly charge on a fixed term, and service billed for pages used
Canon Service and Support
Canon are continually updating their product lines to increase their serviceability and increase uptime for the end user.
ServiceabilityThe maintenance of Canon equipment has been made much easier. Screwless parts enable a reduced service time designed to give more uptime for the customer. On screen videos can also guide users to quickly fix issues themselves without having to wait for a technician
Axia Office services all Canon photocopiers and printers under a preventative maintenance schedule, which ensures high quality prints and copies throughout its effective life and reduces equipment downtime. At each maintenance interval, our service technicians complete all checks and replace all parts in accordance with the manufacturer's service manual, thereby addressing problems before they occur.
Our servicing of the equipment ensures all our Canon equipment has a 5-year warranty. We also remotely track usage and toner levels, sending toner before it is required.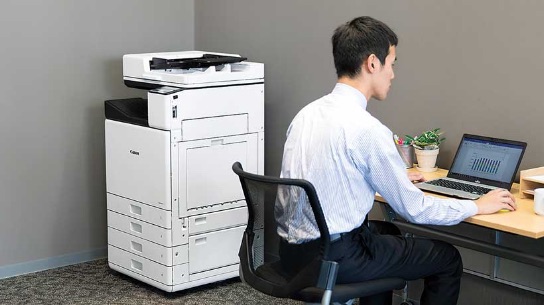 Canon Copiers and Printers for Business
Canon photocopiers and printers are constantly being updated to provide cutting edge solutions to businesses needs.
Canon's DX (digital transformation) series, for instance, put an emphasis on the fact that companies are scanning more and printing less. They have therefore updated their document feeders and scanning units to be some of the fastest and most reliable in the industry. Combining this with their Uniflow software, businesses can easily get a handle on their document management, setting up templates for scanned files to be automatically named and directed into its correct folder.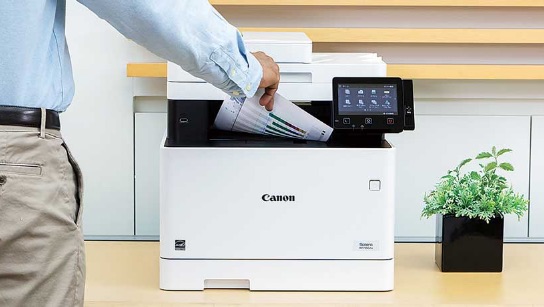 Canon copiers and printers offer the following
Benefits
Advanced scanning technologyCan dramatically reduce time spent naming and saving scanned files to your cloud storage service*
Hot FoldersAllow users to drag and drop a file into a hot folder and automatically print with re-defined settings such as number of copies and finishing requirements
Scan and convert documentsTo searchable digital files in a variety of file formats
SecuritySecurity Information and Event Management (SIEM) system integration helps provide real-time insights into potential threats to the network and printers.
Manage printBy applying print policies and monitoring output
Canon for Large Businesses
Canon for Small - Medium Businesses
Contact us to find out how we can help you save on your business printing costs.
Obligation free quote
Exclusive Unlimited Print Plan
Award winning brands of photocopiers and printers
Build a long-term relationship with a Trusted Partner