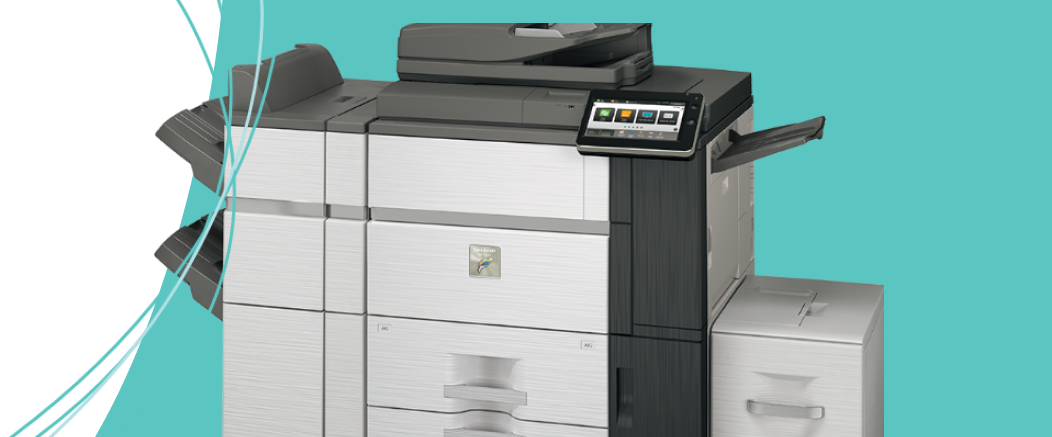 In 2016, Sharp Corporation was acquired by Foxconn, the 4th largest tech company in the world. With this backing, there is no doubt they will continue to exceed the technology of their competitors in the years to come.
Award winning
Sharp consistently wins awards from BLI Buyers Lab - an independent industry laboratory test of all makes and models. They exceed in ease of use, reliability and quality.
Highly Reliable
The MX line has the same chassis and parts across all models, allowing for our technicians to carry a 'warehouse' of all parts required in their car.
Enhanced Native Functions
The MX line features a number of native features often optional extras with other brands, including follow me print, link to cloud services and document OCR capability turning your scans into editable files.
#1

Sharp Dealer in Sydney

Axia Office has been a Sharp dealership for 25 years and the #1 Sharp dealer in Sydney for over 15 years. Most of our staff have been with us for than 10 years. They are therefore very familiar with all aspects of Sharp Corporation and their range of multifunction photocopiers and printer products.

Axia Office regularly negotiates bulk purchases of Sharp photocopiers and toner at prices that gives us a competitive edge.

Axia Office has continued to support Sharp as a brand for so long because they are highly reliable and very efficient to service, meaning down time of machines is very low. Although Sharp is not the best known photocopier brand, it regularly wins industry awards and having serviced them in the field for 25 years we know they are the #1 photocopier choice.
Sharp Copier and Printer Leasing
Photocopier leases and rentals are historically on the preferred option for most businesses when sourcing new multifunction print equipment. Lease and rental finance options require no capital outlay to the business, retaining cash to invest elsewhere in the business.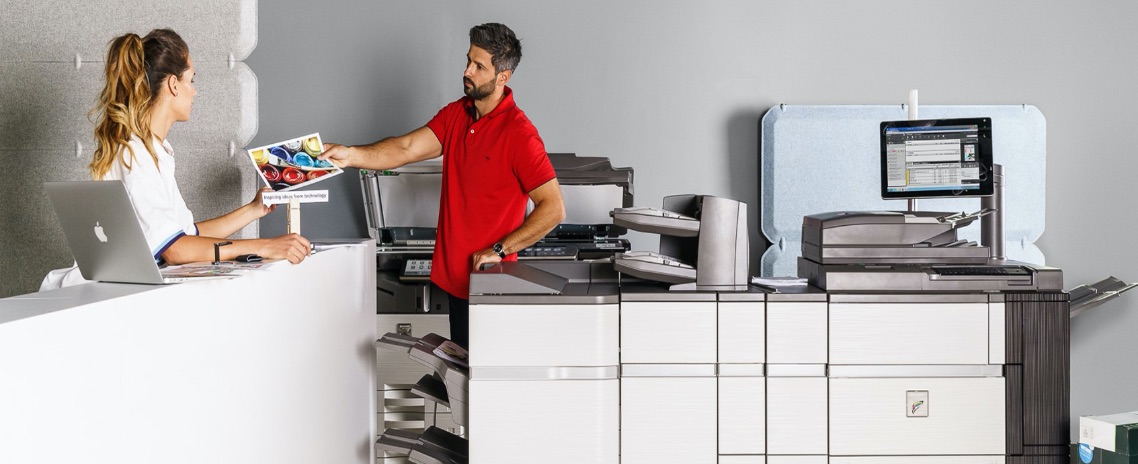 For example, if a new colour photocopier costs $10,000, it is more effective for a business to pay for this over time, at let's say $250/month, making the $10,000 c available to invest in marketing, sales or improving on other business areas, which will lead to the company growing its profits.
Financing photocopiers is also more beneficial than purchasing due to the rapid advancement of technology. A photocopier may be leased for up to 5 years, however new technology may be out in 3 years, in which case early upgrades are often available at no additional cost. Businesses who purchase equipment, tend to hold on to them for too long and miss out on technological advancements which could be making their business more efficient and thus more profitable.
Any SMB to larger companies benefits from this financing process. The more a business needs in terms of printer or photocopier requirements (amount of machines, speeds, functionality etc.) the more the capital outlay would be and therefore the more benefit there would be from reinvesting that cost in the business and leasing or renting over a period of time.
Axia Office has a number or other finance options , which you can read more about below.
Sharp Managed Print Service
Axia Office provides small and medium sized businesses in the Sydney metro area with Sharp managed print services tailored specifically to meet their specific needs.
A dedicated account manager will monitor staff behaviour and the placement of printers to identify the strengths and weaknesses of your current fleet; and we take the time to understand your future plans and requirements.
They will also calculate the true operating cost of printing to your business, what finance options would work best, and any payouts that we need to include. Upgrades to the most recent, award-winning Sharp multifunction copiers and printers Provides the best photocopier finance option for your situation
Remote monitoring and delivery of inks and toners prior to needing them
Ongoing fast preventative servicing and breakdown maintenance
Managed print services Process
ReviewOf current equipment usage and costs by one of our experienced Account Managers
ImplementationOnce the plan has been agreed upon, we will set up all devices, train users, and you'll receive fast, ongoing support, reliable toner delivery, and scheduled preventative maintenance throughout the duration of the agreement
MonitoringOur constant monitoring ensures we quickly recognise when your needs change. We are responsive to opportunities to achieve further cost savings and efficiencies
AnalysisBy the Account Manager to calculate the operating cost of your current print platform
DonationOur clients enable us to support the local community. Each donation Axia makes is tailored to give as much as possible, with a minimum of 2,000 meals or 9,200L of water being funded from each deal signed with our partner charities Foodbank NSW and Rural Aid Australia
Benefits
Improved cost efficienciesAn agreed cost per mono and colour page across all print devices that:
delivers cost savings ranging from 10 to 40%
assists budgeting and allocation of costs to the appropriate business unit
eliminates the need to deal with multiple vendors; a single point of contact improves communication and accountability
removes the responsibility of managing your print platform, leaving you free to concentrate on your business
Equipment to suit your exact needsOur choice of brands, including Canon, Sharp, Epson and OKI, ensures you get new multifunction photocopier and desktop laser printer in the right places, increasing productivity and user satisfaction
Unlimited Print Plan
Equipment to suit your exact needsAxia Office is proud to have released an industry first unlimited print plan, which eliminates monthly volumes and costs per page for one simple monthly figure including unlimited black-and-white and colour usage
Managed Print PlanThe only plan that offers true transparency on your actual print costs, a Managed Print Plan delivers an agreed cost per mono and colour page across all print devices and offers the flexibility to add new print devices or vary volumes . If print usage is higher than expected, the term is reduced offering the opportunity for an earlier upgrade
Rental/LeaseThe traditional photocopier rental/photocopier lease agreement includes a fixed monthly charge on a fixed term, and service billed for pages used
Sharp Service and Support
Sharp photocopiers and printers win awards for their reliability, however they are also very efficient to service. Over the years Sharp have remained consistent in the internal engineering of their devices, keeping the same chassis of the machine across all models of each series released. This means that most of the parts within a 30 page per minute device would be the same for a 60 page per minute device, allowing for our technicians to carry a full range of parts in their cars. Because of this, breakdown services are nearly always fixed on the first visit without parts needing to be ordered.
Axia Office services all Sharp photocopiers and printers under a preventative maintenance schedule, which ensures high quality prints and copies throughout its effective life and reduces equipment downtime. At each maintenance interval, our service technicians complete all checks and replace all parts in accordance with the manufacturer's service manual, thereby addressing problems before they occur.
Our servicing of the equipment ensures all our Sharp equipment has a 5-year warranty. We also remotely track usage and toner levels, sending toner before it is required.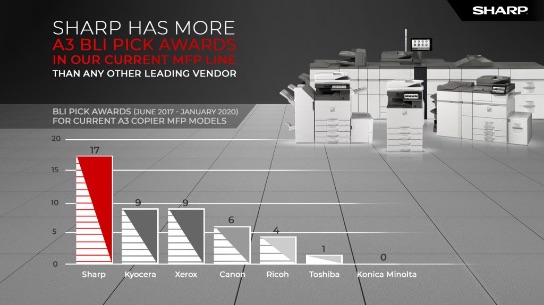 Sharp Copiers and Printers for Business
Sharp has an extensive range of equipment to suit all business levels from small to large.
They offer a range of colour and mono A4 multifunction printers and larger A4 & A3 colour and mono multifunction photocopiers. A major benefit of Sharp products is all products in the range offer the same features. For example, an entry level 30ppm device has the same features as a 60ppm machine. This means more advanced features like document OCR, follow me print and links to cloud services are accessible to any business big or small.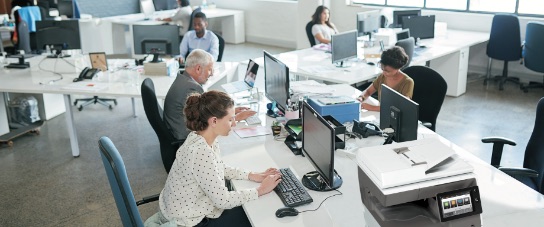 Sharp copiers and printers offer the following
Benefits
Follow me print and print releaseNative to all MX devices, businesses with multiple machines can release a job from any device using a pin code or card
Secure Access controlSharp's MFD's support active directory which lets you use the machines' log-on credentials for network folders. With centralized management of multiple user credentials, system administrators are able to keep track of MFD usage, which makes for an efficient and highly secure operational environment
Link to cloud serviceSharp multifunction machines enable single sign-on for easy access to cloud services such as Google Drive, OneDrive, Sharepoint Online, Box, and Dropbox. This allows for users to directly scan to cloud folders which they can navigate to from the machine whilst scanning.
Converts Document via OCROCR capability on Sharp devices allows the user to convert scanned files into a searchable PDF file or into an editable Office Open XML (docx, xlsx, pptx) files
Multi-Layered security
Blocks unauthorized accessUser authentication Active Directory Whitelisting
Provides secure storageData is automatically encrypted and once a job is finished data is erased by up to 10 overwrites
Firmware self-recoveryPrevents data leaks and firmware damage by automatically restoring files when abnormal activity is detected
Tracking Information printPrints the user's name, the date, job ID and other specifics
Sharp Photocopiers for Large Businesses
Sharp Copiers for Small - Medium Businesses
Contact us to find out how we can help you save on your business printing costs.
Obligation free quote
Exclusive Unlimited Print Plan
Award winning brands of photocopiers and printers
Build a long-term relationship with a Trusted Partner