It's no surprise that every managed print services provider claims they can deliver exactly what you need. If every photocopier solutions provider is reassuring you that they're the ideal partner, it can be challenging to decide who really can meet your business needs effectively. Ask the following questions to choose the right managed print service provider best equipped to back up their commitment to you.
Can the provider submit written testimonials from long term managed print clients?
Finding out how others have experienced the service is one of the best ways to predict how it will work for you. If possible, ask for names and contact details of other clients so you can approach them independently. Any reputable managed print services provider will share testimonials with you.
Are you confident the provider will accurately measure, and report cost savings?
A high-quality service provider works with you to manage your print solutions and reduce print costs. It's important to know that your provider will regularly review your account to identify areas that could be more efficient. It's helpful to find out what procedures they have in place for this.
Does the provider employ their own service team?
You need to be able to communicate effectively with your service provider. Look for providers that have their own in-house service team. This means you'll benefit from consistency, as well as local support.
Do the service providers offer a choice of photocopier and laser printer brands?
A service provider who isn't tied to one brand, means that you have more choices. You might already have a preferred brand for products like photocopiers, for example, Sharp copiers or Canon copiers. Service providers who work with multiple brands, ensure you get devices that fit your budget and meet your business needs.
Will the provider utilise existing cost-effective print devices, regardless of the manufacturer?
A good managed print services provider should adapt to your needs. If you have cost-effective devices you want to continue using, a reputable supplier will support you in this and suggest complementary solutions.
Can the provider improve workflow automation and/or optimise business processes?
A managed print services (mps) provider should focus on optimising your workflow and processes. By continually reviewing your printing environment, print volumes, security features, device usage, and print spend, they should be able to recommend ways to optimise processes.
Is the provider happy to supply details of all service calls, including the time the call was logged, time taken to complete the call, fault and rectification undertaken by service engineer?
Transparency is important. If you experience an issue, you need to know that it is properly recorded and that you can access the information as you need it. Confirm that the supplier is willing to provide service call details as requested.
Does the provider offer direct access to Senior Management?
You need a strong partnership with your service provider. A reliable provider will give you access to senior managers who are committed to improving your services. Good providers will allocate you a relationship manager and account manager.
Are you confident the service provider will constantly monitor your print platform?
Regular contact helps service providers to constantly monitor your printing solutions. You should gain assurance that the provider will be continually working to support and improve your devices and processes, whilst staying in touch with you at the same time.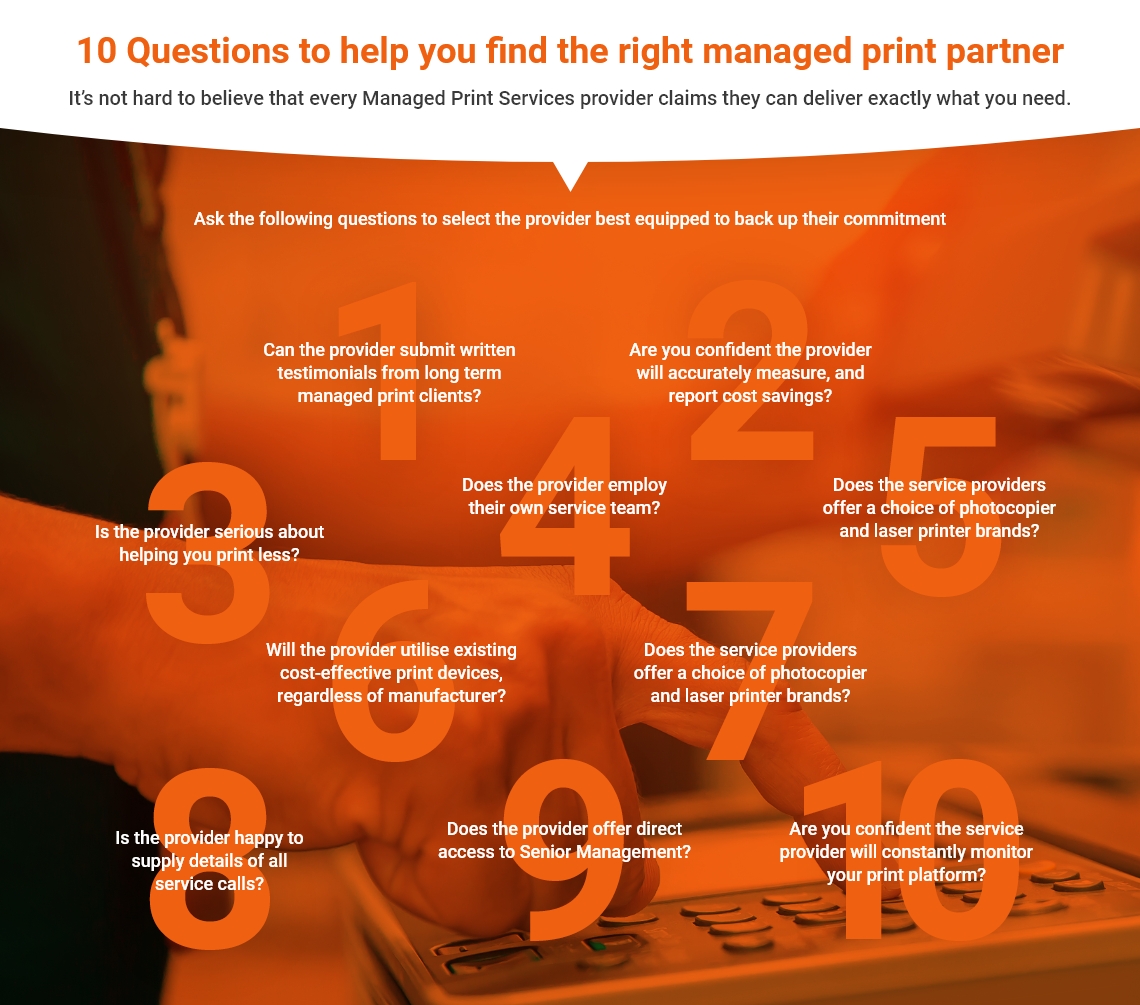 AXIA COPIER SERVICE & PRINTER SERVICE
OUR SERVICE COMMITMENT
WE'RE ON A MISSION
Each and every day we work hard to deliver quick, reliable, and proactive service that'll exceed your expectations. That means we'll do all we can to ensure a consistently high standard of document output from your digital photocopiers, multi-function printers and laser printers during their effective lives.
OUR PEOPLE ARE OUR STRENGTH.
Because of their experience and dedication, our fully trained service engineers are the best people to achieve our mission. Naturally, they're all qualified and they attend comprehensive training for all new products that are released.
And, above all, they're passionate about their work and enjoy working here at Axia Office. In fact, most of our engineers have been with us for over 15 years!
PRINTER SERVICE MANAGEMENT SYSTEM
When it comes to services and support, your printer or office copier, Axia Office has a world-class system that leaves no stone unturned. Here are some of the features of our service that makes us an industry leader year after year.
We support our field technicians with innovative software and systems. When a call comes in, it's allocated to the technicians via their laptops. They immediately have access to the full-service history of the machine, manufacturers' service manuals and, if they happen to require a part not with them, they can order it online before leaving your premises. Their spare parts are replenished every evening via a courier.
The system we use, generates a daily report that shows the fault reported and the work completed by the engineer for the current and three previous calls. This helps management identify recurring problems which are then addressed by our service manager.
Our system also calculates the time taken to complete each call, and our average completion time for all calls. So, if you want to know how long your service may take, you're more than welcome to inspect our "live" reports.
We provide a detailed report of all service calls including the time each call was logged, allocated, completed and the work performed, for all multi-function printers and copiers under contract with us. If you're not already a customer of ours, we suggest you ask your current service provider to supply these reports. We're sure you'll find the outcome interesting!
We also provide software that automatically notifies us of page counts at the agreed intervals and when toner reaches a predetermined level, e.g., 33%. This reduces administration at your end and ensures that you never run out of toner.
At the end of the day, our systems are all about a smoother, stress-free experience for you. We've invested several hundred thousand dollars in our systems - without them we couldn't continue to be at the top of the game.
PREVENTATIVE MAINTENANCE CONTRACT
We want to ensure that there are no interruptions when it comes to your business multi-function printer/copier.
Therefore, we offer a cost effective and comprehensive preventative maintenance contract, that ensures you experience a consistently high standard of quality with your machine.
Here's how it works: A maintenance inspection interval is programmed into your printing and scanning machine in accordance with the manufacturer's specifications.
At each maintenance interval, our technicians complete all checks and replace all parts in accordance with the manufacturers' service manual, thereby addressing problems before they occur. And, unlike your car service, the cost is predetermined so there aren't any surprises!
Most of our competitors claim to offer this service but only deliver what we call "corrective maintenance"- they only turn up at your premises after copy quality deteriorates or a breakdown occurs.
This helps their bottom line, but you'll almost certainly need to replace the device before it reaches the end of its effective life. This is hardly a desirable outcome!
For managed print services Sydney businesses rely on, get in touch with Axia Office.